Newsletter
It's good to be back!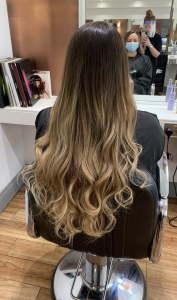 Well, it's a long way from normal, but even with the PPE, social distancing and other changes, it is great to be back doing what we love and, judging by the reaction of our clients, the feeling appears to be mutual.
It is now three weeks since we reopened and we are busy working our way through our overdue clientele. Post-lockdown hairdressing can feel a little bit like a fire fighting – rescuing colours, covering much-overdue roots, cutting off dry ends and returning our male clients to a semblance of normality.
But in amongst all this fire fighting, it is easy to lose sight of the fashion and trends that we would normally keep a close eye on for our clients. A client asked me recently "what is happening with hair fashion for Summer/Autumn 20 (SA2020)?" and I have to admit, it did make me think for a minute. TV and media have been COVID-19, COVID-19 and more COVID-19. Without our monthly supply of glossies and the abandonment of the seasonal catwalk shows (London, Paris, Milan etc.), 'fashion' has almost been on pause.
So it led me to think about where our influences for SA2020 will come from and the strong feeling I get is that post-lockdown hair is already influencing the direction hair will take for the coming season:
Many of our clients who have hair colour that has faded and sun-lightened over lockdown have embraced the lighter look and asked that their colour remains lighter/blonder (take a look at Kerastase's new ambassador Emily Ratajkowski's new blonde look).
Lots of clients that have had a fringe previously (and resisted the urge to cut it) are loving the longer bangs* (*an Americanism, and whilst they do love to slaughter the Queen's English, I think 'bangs' works well to describe a longer fringe)
The lack of socialising and 'dressing for the office' has meant that clients have embraced a low-maintenance styling regime for their hair, including leaving their hair to air-dry or diffuse dry and not only has this been a welcome break from heat damage for the hair, it has also allowed them to rock a more hippy-chick vibe (see balayage image styled and coloured by our Level 2 stylist Lillie Sutton).
As Jeff illustrated perfectly (see pic – used with Jeff's full permission….surprisingly!), it is our male clients that have arguably been the ones for whom thishair-lockdown has been toughest. That said,quite a  igh percentage of our male clients have learnt to love the feel of actually having some hair to play with and it feels like the Joey Essex/Peaky Blinders inspired hair of the last few years may give way to longer and more natural hairstyling for men (other than for Jeff, who feels much better without his 'Jefro').
So, if there is a SA2020 influence to hair fashion, I think it will feature longer hair for both women and men, softer and 'looser' styling and natural cool and honey toned blondes. As always, condition is vital when lightening the hair and sun-kissed looks work much better when the hair is soft and shiny (see our PCC feature below).
Returning to normality – tiny steps…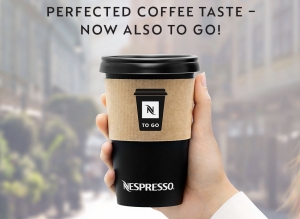 As a coffee lover, the concept of not offering coffee to our clients is hard to get my head around, especially when we endeavour to always offer the highest quality coffee offering available (Nespresso). So it is with delight that we can announce that, following consultation with Southend Council's Environmental Health Department, we can start to offer Cappuccinos, Lattes, Cortados and Espressos in disposable cups. We are able to do this due to the fact that our coffee is produced by a machine and involves no manual processes. Therefore, unfortunately we are still unable to offer any other refreshments, but we know that being able to enjoy a nice coffee whilst having your hair done is something our clients really do appreciate.
PCC – little doses of magic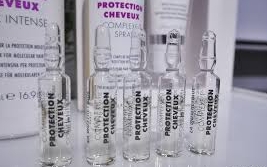 Great condition is and always will be our number one goal for your hair. A few years back some genius came up with the game-changer that is Olaplex and ever since then all of the major cosmetic companies have bought out their own 'bond rebuilder'. Here comes the science bit… when we colour hair we invariably damage the hair; this damage occurs when the bonds within our hair start to break down and the resulting effect is weakened and dehydrated (dry) hair. When we significantly lighten the hair, this is magnified. Bond rebuilders work by rebuilding the bonds within the hair at the same time as the chemical process is breaking them down. The net effect is that the hair colourant does significantly (up to 80%) less damage.
Whilst Olaplex has reigned supreme up until now, we believe that PCC (Protection Cheveux Complexe) by La Biosthetique is even better. Priced at £18.00 as an additive to your colour service, PCC will leave your hair feeling noticeable softer and better conditioned post-colour. We are proud that this service is unique to novo hair in Essex and would recommend that you ask your stylist if having PCC in your next colour service would benefit you.
Sign up and continue to receive our newsletter
So many clients have told us how much they have enjoyed our newsletters during lockdown, and how they have bought some light relief during rather depressing times. I've also been amazed that people have actually followed my recipes and enjoyed the results (the Almond cake and Focaccia were particularly popular).  We hope to continue to send newsletters once a month, but we are changing our platform and we ask clients, should you want to keep receiving the novo newsletter, please click on this link to visit our website and sign up to our new platform.