Novo are pleased to announce that not only do we use Olaplex in-salon, but we also now stock the home haircare regime to enable our clients to continue the repair process at home.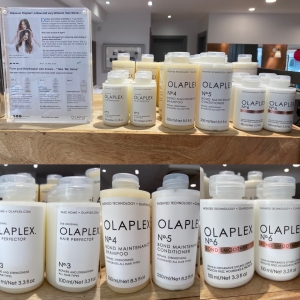 Step 1: The bond rebuilder is either used as a in-salon treatment (£30) or as an additive (£18) to your hair colourant and actively reduces the damage of any chemical service  – this stage and stage 2 are only available as an in-salon services.
Step 2: Following chemical services (or as a stand-alone treatment) this stage repairs any bonds that have not have been treated during step 1.
Step 3: Hair Perfector – used weekly at home this will continue the rebuilding process after an Olaplex treatment in salon.
Step 4: Bond Maintenance Shampoo – daily use shampoo to impart moisture and strength.
Step 5: Bond Maintenance Conditioner – helps to eliminate breakage and promote stronger, shiny and healthy-looking hair.
Step 6: Bond Smoother – leave-in reparative styling cream that will reduce frizz, nourish and protect (for up to 72 hours)
All priced at £26.00