Day 49: and everything changes (not!)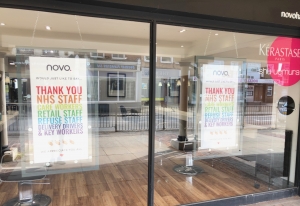 Apologies for the delay in writing this latest newsletter. I wanted to leave it until after Boris had spoken to allow us to use his 'roadmap' to give more clarity on the reopening of our salon. However, following his address, we have no more clarity than before!
I must admit, if you'd told me at the beginning of this lockdown that it would go on for in excess of 8 weeks, I'd have been shocked. But as we enter week 8 of what now appears to be potentially 14 weeks of closure, social distancing seems the new norm, shops that are open are a strange experience, one day just seems to blend into the next, and all we can do is wait for the government to tell us when we can get our lives back – it seems that July 1st is going to be the earliest, but lets keep an eye on that R number.
Our team is keeping in touch via Zoom meetings, we are having the salon spruced up a little in anticipation of reopening and we are closely following government guidance on what PPE we will have to be using (once we are able to reopen) to ensure our salon is the safest environment possible to welcome our clients.  Meanwhile, we are always on hand to support our clients whilst closed and we are still busy delivering haircare. But as our stylist Megan put it recently when I asked her how she felt about returning to work "I just want to get back to the reason why I do this job in the first place – to make people feel beautiful and human again" and I think that sums it up really well!
Hairdressing is a special job, not only do we hopefully send our clients out of the salon looking and feeling a whole lot better, we also have a really special client/stylist relationship (not forgetting the client/receptionist and the client/trainee relationships), and as hairdressers I know that we miss those catch-ups as much as I'm sure our lovely clients do.
Finally, and to answer the most commonly asked question, our reception team are poised and ready to activate 'operation relaunch' as soon as we get word that we will be able to reopen. Operation relaunch will hopefully mean that we will contact our clients to rebook them asap. But we will be trying to contact over 1500 active clients and that will certainly take a few days, so rest assured we will re-enable online bookings with 48 hours of an announcement being made.
Kevin's Almond Cake Recipe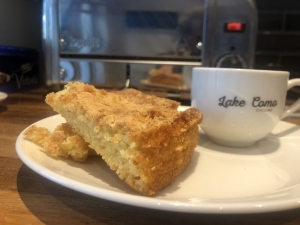 This is not something you were expecting, right? Well, I am not known for my baking, but I am fairly well known for my cycling and this cake is one that is really popular in cafes in Girona and Mallorca – both Meccas for cycling. The great thing also about this cake is that it uses hardly any of the two world's most valuable commodities: flour and time. You'll need the following:
4 Eggs
1 Lemon
180g Granulated sugar
120g Almond flour (or finely ground almonds)
1 tsp Baking Powder
1 tbsp Plain flour
Simply whisk the 4 eggs and granulated sugar on a bowl until nice and fluffy. Now fold in the almond flour, baking powder and plain flour and add the grated peel of your lemon.
Grease a 24cm springform baking tin really well with butter and pour in the mixture – then 'ready, steady and bake' for 45 mins at about 180 C.
Best eaten whilst still warm with a quality espresso – the wearing of lycra is an option, but not essential for enjoyment of this cake!
Meet the team Q&A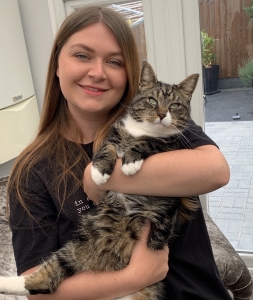 This week we speak to Megan Hilbery our Level 3 Stylist and Balayage expert. Megan started working for novo as a Saturday Girl, completed her NVQ Level 2&3 training and has since progressed through the ranks to become a hugely talented and popular stylist  – not bad considering she's still only 23!.
Who is in isolation with you at your home?  My mum Jackie, stepdad Ray, dog Alfie and my two fur children Chip and Pickle (tabby cats, of which chip was a 21st birthday present from novo!)
2. What does your 'new typical day' look like?  Wake up around 9am, FaceTime my Nan with my mum whilst having breakfast, then normally I do some of my puzzle or chat to friends, and then settle down with a gin in the evening whilst watching Netflix or a doing a zoom quiz!
3. Describe your mindset towards this isolation period?  I've tried to be positive as much as I can, it's tough going for everyone but I just try to remember that it will come to an end, it's not forever!
4. Did you have a 'must get around to doing' during this period of isolation?  I'm due to be moving into my own flat when lockdown has completely lifted, so I've been trying to get packing but have had a shortage of cardboard boxes (obviously not ordering anything big enough from amazon)
5. Box set you intend to binge? and box set you'd recommend to binge?  I would 100% recommend Peaky Blinders, I'm obsessed with Thomas Shelby, he's gorgeous! I'm currently binge watching Suits and would recommend that too (also gorgeous men)
6. You're unable to go shopping, but what was your last internet purchase?  It's quite a boring purchase to be honest but it was a file folder to sort all my documents for the flat and highlighters. very adult!!
7. You've got one outdoor exercise (apparently) you're allowed to do each day – are you using it? And what's yours?  I've been taking my dog for a walk every day at lunchtime and stopping at both my Nan's houses for a chat on my route round the block, as they only live 2 minutes from me and are next door to each other luckily!
8. What are you missing most? I'm missing my sister, my dad, family and friends etc but I really really miss a pub garden!
9.Top hairdressing tip for surviving this period? Keeping hydrated will keep your hair nourished, so remember 2 litres per day!
10. Not wishing to promote alcohol😉, but what's your tipple of choice and have you set a time for your first drink of the day?  Oh I love a Rhubarb Gin and Tonic or Prosecco…or all three?! (Kevin introduced me to that cocktail) There is no 'time' when it comes to Gin!
11. What are you looking forward to doing most once we are 'free at last'?!  I'm going to give both my Nans the biggest hug and treat them to a long awaited haircut!!
12. Have you a message for our clients?  I can't wait to get back and start making you all feel beautiful again, hopefully it won't be too long…..and put the box dye down!!! Stay safe xx