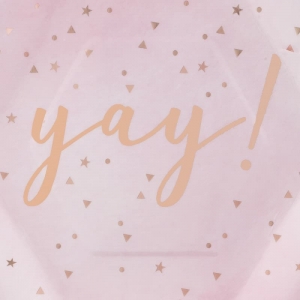 It's over! (well nearly…)
Apologies for the delay since the last newsletter but we've been busy ensuring our salon is safe and ready for the (eagerly awaited) reopening on the Saturday 4th July. I certainly had no idea when I wrote my first ramblings on Day 2 (24th March, some 14 weeks ago) that this would go on so long. To return to work  is going to be a very strange experience – especially with all of the restrictions and necessary PPE (see our Covid19 Guidelines).
We will be taking every measure possible to ensure the safety and comfort of both our clients and our employees, and we hope to try (wherever possible) to offer the same high levels of service our loyal clients have come to expect. However, we will have to make adjustments to the offering of refreshments and magazines etc that are dictated by Government advice….we trust that our guests understand this (to be honest, from the many emails I have received from 'desperate' clients, I think they'd be happy to get their hair done on the pavement outside the salon if necessary!).
Although we officially reopen at 8am on the 4th, Siobhan will be manning reception between 10am and 4pm on Friday 3rd to deal with any telephone calls or retail purchases. Hundreds of you have booked using our online system via our website (and thank you very much btw) but this system does not allow users to move or cancel their bookings, so if you need to alter an existing appointment feel free to call us on Friday 3rd.
Finally, we love you all dearly – if you've resisted cutting or colouring your hair during lock-down we thank you all for your patience, but if you didn't resist and we've got to try and repair the damage….we forgive you 😉
Kevin's Swiss Roll Recipe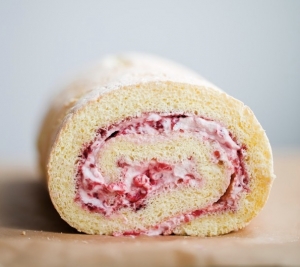 Not really the weather for a Swiss Roll? I'm not so sure – it is kept in the fridge so therefore goes down fairly well on a hot day. Plus, when it comes to home-baking I haven't exactly got a lot of recipes in my locker and this one has the added benefit of including an easy recipe for home-made raspberry jam.
Ingredients:
4 Medium Eggs
120g caster sugar
1 Vanilla Pod (seeds only)
80g self-raising flour
200ml double cream
1tsp vanilla extract
150g raspberries
Jam Ingredients:
500g raspberries
450g Caster Sugar
1 lemon (juiced)
Start by making your Jam:  this is really easy and makes enough extra to keep for future use.
Put all the jam ingredients into a saucepan over a medium heat and stir the mixture together until the sugar has dissolved.
Now bring to the boil and simmer for 5-10 minutes until thickened.
You will know whether it has reached setting point by either using a digital thermometer and you are looking for it to reach 104C, or by spooning a small quantity of your jam onto a cold plate and allowing it to cool – if you run your finger through the centre of the jam and it doesn't run back on itself it is ready. Once it has reached setting point take off the heat and allow to cool.
Now stir the foam on top back into the jam. Remember to have a sterilised jar handy as you won't need all of this for your swiss roll.
Now the baking bit: Pre-heat oven to 190C/Fan 170C/Gas 5
Line a 23cm*33cm Swill Roll tin (or similar) with baking paper.
In a large mixing bowl or stand mixer whisk the eggs, sugar and vanilla seeds until pale, thickened and fluffy.
Now gently sift the flour gently into the mixture (do not use a mixer for this part).
Pour the mixture into the lined tin and spread evenly to the edges using a spatula – bake for 10-15 mins until it is just firm to the touch.
Place a sheet of baking paper on your worktop and dust with the caster sugar, now turn your sponge out onto the paper and set aside to cool.
In a clean bowl whip the double cream and vanilla extract until they from soft peaks.
Spread the (cooled) jam over the sponge, but be sure to leave a 2cm gap around the edges and sprinkle over some whole raspberries. Next spread your whipped cream mixture on the top (making sure the jam has cooled sufficiently – the first time I made this I didn't wait and the whole thing turned to mush).
Finally, taking the longest edge, gently roll the sponge (using the baking paper as a guide – we've all seen this on GBBO) quite tightly, but making sure the filling stays inside.
Dust the roll with extra caster sugar and slice to serve.
Keep in the fridge.
Meet the team Q&A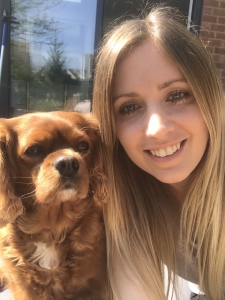 This week we meet Nicola Cornish. Nicola has been with novo from way back before the Hockley branch opened and is now only surpassed for length of service by Elaine and myself (Kevin). Nicola is a brilliant all-rounder and also specialises in Great Lengths hair extensions – in fact I doubt anyone locally has been doing GL hair extensions longer than Nicola, she was even treated to a tour of the factory in Rome back in 2008.
Who is in isolation with you at your home? My husband is back at work, so it's just me and my dog Bella keeping each other company.
What does your 'new typical day' look like? I like to get up and walk Bella in the morning to try and get me motivated for the day, but she isn't a morning dog and likes to lie in. I spend the rest of the day doing bits at home.
Describe your mindset towards this isolation period? Some days are a bit of a challenge, especially at the beginning not being able to go anywhere – as things relaxed it was nice to get out more. I think we have also been lucky with the weather during this time 🌞.
Did you have a 'must get around to doing' during this period of isolation?  I had a big list at the start of lock down just lots of sorting bits out at home……. It's still a big list! 😂
Box set you intend to binge? and box set you'd recommend to binge?  I haven't really watched much in the way of box sets in lockdown, luckily Disney + came out at the start so it's been more films. I recommend the new Lady and the Tramp on there.
We don't want to promote internet shopping, but what was your last internet purchase?  Nothing too exciting I'm afraid, just some new clothes from Asos.
You've got unlimited outdoor exercise (apparently) you're allowed now each day –have you been using it? And what's yours? Walking Bella every day.
Top hairdressing tip for surviving this period?  I think giving your hair a good break from styling tools and doing weekly hair mask treatments – alhough there is only a week to go now 😃.
What are you looking forward to doing most once we are 'free at last'? When we are completely free at last it would be going somewhere nice on holiday –  maybe Disney ☺️
Have you a message for our clients? I am really looking forward to seeing you all from July 4th onwards xx