cheers – salud – cin cin

Kevin's FOCACCIA recipe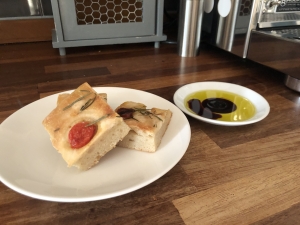 Firstly, we need this lockdown to end as I only have four or five more recipes that I cook, and I don't think you (my dear reader) need to be treated to another Avocado on Toast recipe!
Now, I may not particularly look it, but my Family descend from Livorno in Italy, which is not the prettiest bit to be fair – Livorno is to Tuscany what Tilbury is to Essex. But hey, Tuscany is Tuscany, and Essex is Essex…..enough said!  Although the Franks family  (under the name Ottolenghi) left Livorno in the mid-1750's, it is the part of my family history I prefer to focus on.
Italian food is probably up there with Spanish and Thai as my favourites (actually, chuck Moroccan in there as well), and this simple Italian olive oil bread is one of the best.  Ideally it should be served with Prosecco, mid-afternoon and sitting at a pavement table in a Piazza, but in this lovely weather a patio set in your garden will suffice.  Focaccia can be topped with an array of seasonal produce, but I've opted for Tomatoes and Rosemary.
INGREDIENTS
500g strong white bread flour
10g salt
3g instant/quick/fast-acting dried yeast
400g cold water
80g olive oil for folding and topping
sea salt flakes, rosemary and baby vine tomatoes* (or Olives)
Place the flour, salt and yeast into a bowl and mix together thoroughly.
Make a 'well' in the centre of the flour mix and add the water – then mix together to form a dough until all loose flour is absorbed.
Tip the dough out onto a worktop and use the heel of your hand push the dough into the surface and 'stretch and tear' (I'll leave you to YouTube that technique if you haven't done it before), do this for 8 minutes (make sure you continually bring all of the dough back into the ball of dough whilst you do this).
Once this is complete pour 50g of olive oil into a (clean) bowl) and place the dough back into the bowl. Spread the oil gently over the surface of the dough and 'fold' the dough 4 times – you do this by putting your fingers gently under the dough at the top (the furthest point away from you) and bring it towards the middle, then complete 3 more folds for the bottom and each side (think north, south, east and west) – I am informed that is called a 'single fold'.
Now leave that to rest for 30 mins under a tea towel and complete another three folds 30 minutes apart – I would recommend a Gin and Tonic or, if your feeling particularly Italian, a Negroni (as featured in Newsletter 1) in between each fold.
After the final fold move the bowl to the fridge for 10mins.
Gently slide your dough onto a lightly oiled tray and fold in half (so it looks a bit like a Cornish pasty) and massage some more olive oil into the surface of the dough making sure it is well covered.
Place your fingers into the dough to distribute it evenly around the tray, allowing your fingers to leave dimples in the dough (I prefer not to go to the edges of the tray, as this may make the edges of your focaccia too crisp).
Pre-heat your oven to 220*C/fan 230*/gas mk7.
Now scatter your rosemary and tomatoes (chopped in half) across the Focaccia and leave for 30mins.
Finally, generously sprinkle with salt and make for approx 15 mins.
Take out and glaze with olive oil, allow to cool and serve – ideally by dipping in a mixture of olive oil and balsamic vinegar (best done whilst still warm)
Meet the Team Q&A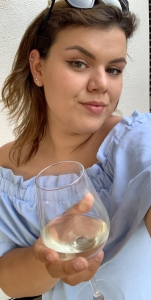 This week we meet Gabby Gridley our talented soon-to-be Stylist. Gabby initially joined us at our Southend salon, before moving to our Hockley branch in of 2018. She has completed her Level 2 NVQ and is working towards completing her Level 3 and becoming a stylist. Gabby has already proven her talents by reaching the finals in the Central Hairdressing Academy photographic competition not once, but twice, and actually winning it in 2018!
1. Who is in isolation with you at your home? My Dad, Mum and my dog Alan.
2. What does your 'new typical day' look like?  I now drag myself out of bed before 11! Then do a workout with my mum, followed by a walk with my dog and see my Nan & Grandad from a distance as I'm fortunate enough they only live round the corner to me.
3. Describe your mindset towards this isolation period?  I found it challenging at first, as I'm always out either working or with friends. However I've tried to look on the positive side of things by being more productive and take sometime to get things done.
4. Did you have a 'must get around to doing' during this period of isolation?  Yes, I had so many pictures I had printed that I kept meaning to put up and now I've made a memory wall. Next will probably be sorting through my clothes🤦‍♀️
5. Box set you intend to binge? and box set you'd recommend to binge? I intend to watch Dead To Me, it's been recommend to me so much! I've also been watching Celebrity SAS, which is so addictive!
6. We don't want to promote internet shopping, but what was your last internet purchase?  Nothing very interesting it was my friend's birthday present, which was a bag and a pair of shoes.
7. You've got unlimited outdoor exercise (apparently) you're allowed now each day –have you been using it? And what's yours?  I take my dog out for a walk everyday either in the woods or along the seafront.
8. What have you been missing most? I'm missing just normal life, seeing my friends and my family when I want to and just walking into a shop without having to queue.
9. Top hairdressing tip for surviving this period?  Take this time to give your hair some TLC, treatments and no heat! I know exactly how hard it is I have never gone this long with no extensions it's horrible😱 but this is a good time to give your hair a break and you'll see such a difference when this is over!!
10. Not wishing to promote alcohol😉, but what's your tipple of choice and have you set a time for your first drink of the day?  My go-to is a pink gin & lemonade and in all honesty depends on my mood of the day – it could be 1pm or it could be 6pm🥂
11. What are you looking forward to doing most once we are 'free at last'?  I'm looking forward to seeing all my friends and family and not taking for granted all the things we can't do now!
12. Have you a message for our clients?  Hang in there, hopefully it's not too long now till we can see all your lovely faces again! Stay home and Stay safe❤️