Reduce waste, help the planet & save money

what's not to love?!
More than ever before, we at novo are doing our very best to reduce waste and look after the environment. We are therefore delighted that our partners at Davines have launched their 're-fill' initiative across their Essentials and Oi shampoo and conditioner ranges. Simply bring in your washed and empty bottles and we will re-fill them for you…..our environment benefits from the use of less packaging and you benefit from a 12.5% saving on the RRP of the product!
something in the water.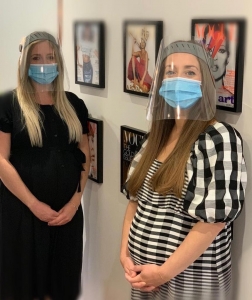 Babies are like buses…..you wait for ages and then two come long at once! Two of our most popular stylists, Angela and Nicola are both expecting happy arrivals at the end of October. For Angela and her husband Aaron it will be their second, and for Nicola and her husband Paul it will be their first (the world changes forever guys!). If you already have an appointment with Angela or Nicola they will advise you who they recommend would be best to look after your hair until their return. If you haven't already secured a booking, best be quick because Nicola finishes on Saturday 3rd Oct and Angela on Saturday 10th Oct.
Well-deserved promotion for Megan
This is a story I love telling….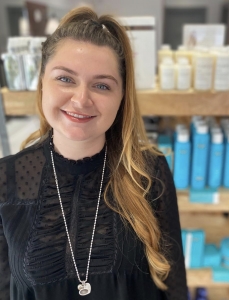 Many years ago novo hired a stand to sell products and do haircuts for Fair Havens at a local beauty/wellbeing fair. Financially it was a disaster and after one day we had sold virtually nothing, so we decided to concentrate on first come/first served charity haircuts – which became a huge success. Amongst the many haircuts we did was a lovely lady 'Jackie' and her very young daughter Megan. For some reason (and luckily for us) this chance meeting inspired Megan to want to become a hairdresser and, seeing as Jackie had gone on to become a loyal client of novo, our Hockley salon was the ideal choice for her apprenticeship. Her flair and commitment were obvious from the outset and, following completion of her apprenticeship she went on to become a Level 1 stylist with novo, Level 2 quickly followed and we are thrilled to announce that as of the 1st September she will be promoted to Level 3 stylist. For clients who don't see Megan, she is a hugely popular stylist specialising in cutting and colouring, with a particular talent for Balayage (freehand) colouring. Her promotion carries a small price increase on some of her styling services – although she has been operating as a Level 3 colourist for the past 18 months.
Olaplex haircare now available at novo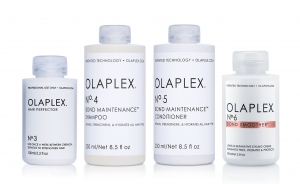 Olaplex is to hair repair what GHD is to straightening irons. When Olaplex hit the hairdressing world in 2014 our industry changed forever. Previously the bonds broken down during chemical services took forever to repair with treatments/masks etc, whereas Olaplex actually repairs and rebuilds bonds during the chemical process. We are now pleased to launch the revolutionary home haircare range at our Hockley salon.
Step 1: The bond rebuilder is either used as a in-salon treatment (£30) or as an additive (£18) to your hair colourant and actively reduces the damage of any chemical service  – this stage and stage 2 are only available as an in-salon services.
Step 2: Following chemical services (or as a stand-alone treatment) this step repairs any bonds that have not have been treated during step 1.
Step 3: Hair Perfector* – used weekly at home this will continue the rebuilding process after an Olaplex treatment in salon.
Step 4: Bond Maintenance Shampoo* – daily use shampoo to impart moisture and strength.
Step 5: Bond Maintenance Conditioner* – helps to eliminate breakage and promote stronger, shinier and healthier-looking hair.
Step 6: Bond Smoother *– leave-in reparative styling cream that will reduce frizz, nourish and protect (for up to 72 hours)
*All priced at £26.00
Ask your stylist how Olaplex could work for you.
Refer a Friend and earn £10.00 each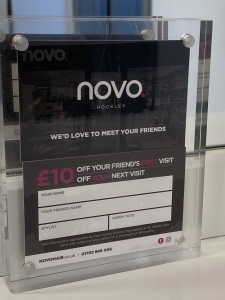 Throughout September and October we will be running our 'Refer a Friend' promotion. Simply give one of our RAF cards to a friend/family member (they must either be new to novo, or not have visited a novo salon for over 18 months) – the recipient will benefit from £10.00 off of their first visit to novo and, by way of thanks, you will get £10.00 off of your next visit. So next time someone says "your hair looks lovely", reach for a novo RAF card.
Simply ask your stylist (or our reception team) for a pack of RAF cards – furthermore, you can recommend as many people as you like and benefit from £10.00 for each and every friend recommended!