Day 24 and our 'Great Leader' (well, his representative actually) has told us that we are looking at another three weeks  of lockdown. I'm sure I speak for everyone when I say that I'd rather wait until we are confident we've broken the back of this crisis before we resume normal life.
novo initially said we were on pause for this duration but it seems like we've had enough of that and we are already starting our own version of the 'exit strategy'. This week has seen us organise two Zoom staff meetings to discuss our reopening plan. We have also been busy delivering (and posting) haircare to our lovely clients (see above), planning how we can improve our client experience and all staff have been taking part in online cutting and styling training – and we try to get all of that done before 4.30pm which, as you all know, is still officially Gin o'clock!
How fantastic is the achievement of Captain Tom Moore (just in case you've been living under a rock for the last few days, he is the 99-year-old Army veteran who has raised £14.5M for the NHS staff by walking 100 lengths of his garden). Plus, there are many other fundraisers doing their thing to show our collective thanks for the amazing work of our NHS frontline staff. For many years we (at novo) have offered special rates for our NHS workers, but now, more than ever, we really want to do our own little bit to show our thanks. So we'll be launching something in the next couple of days to allow readers of our newsletters/social media feeds an opportunity to suggest a friend or family member who works for the NHS that deserves a special treat – to be honest they all do, but we'll do our best to thank a few special ones.
The 'extended' novo  family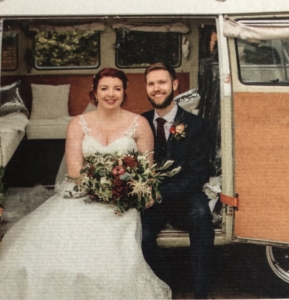 We received a lovely card of thanks from our client Alice (see pic) after doing the hair of both her and her bridesmaids for her recent wedding. Not only did she thank our team for how beautifully we did the hair, but also said how welcome we've made her feel over the years and how she very much feels part of the novo family. Well, we can only say the feeling is mutual and that these times remind us all how you (our clients) really do feel like part of the novo family and we can't wait to see you all again soon.
Novo Home delivery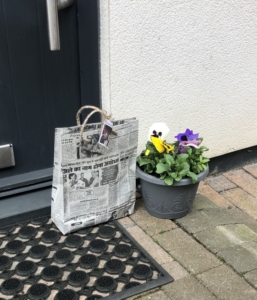 We seem to have been busy with almost daily deliveries recently in order to keep our clients stocked up on their haircare essentials. So if you're in need of replenishment, please feel free to email us on hockley@novohair.co.uk and our express delivery team (yours truly) will ensure your goodies arrive on your doorstep pronto*. Plus, remember with any two purchases of Davines you will receive a free Dedy hand wash, and with every two Kerastase products you will receive a free Kerastase Candle.
*Did you know that our retail bags (pictured above) are made out of old newspapers by street children in India and all of the proceeds from these bags help to provide housing and education to help lift these street children out of poverty.
MEET THE TEAM Q&A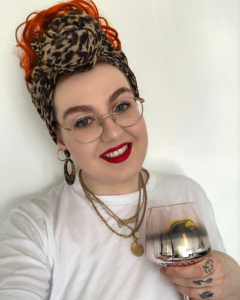 This week we would like you to meet our talented apprentice Charlie Coakley. Not only is she a bright hope for the future, she is already an accomplished make-up artist – certainly one to watch out for.
Who is in isolation with you at your home? Myself and my partner Brad
What does your 'new typical day' look like? I am shamefully enjoying a lay in here and there. I've been doing workouts and yoga a lot more with all this free time and I've been getting back into drawing and painting. 

Describe your mindset towards this isolation period? I think it's a difficult time for everyone and as a really social person it's hard for me to adjust being stuck inside. But, it's a great time to reconnect with our hobbies we don't usually have time for. It's also a great opportunity to have a well deserved break and look after our mental health! 
Have you a 'must get around to doing' during this period of isolation? I really want to get fit! I'm also getting around to reorganising my flat! 
Box set you intend to binge? and box set you'd recommend to binge? I'll be bingeing RuPauls Drag Race for the 27163 time! And I highly recommend Tiger King on Netflix, it's amazing! 
We don't want to promote internet shopping, but what was your last internet purchase? I bought a new iPad, it was my birthday recently so I thought I would treat myself! 
You've got one outdoor exercise (apparently) you're allowed to do each day – are you using it? And what's yours? We're going for a walk/run! I'm loving being able to get out! 
What are you likely to miss most? My friends and my family! Thank goodness for Skype! 
Top hairdressing tip for surviving this period? Now's the perfect time to wash your hair less, embrace your roots, stop using heated equipment and give yourself lots of treatments! I love The Spotlight Circle mask from Davines!
Not wishing to promote alcohol😉, but what's your tipple of choice and have you set a time for your first drink of the day? I'm loving a cheeky rum and pineapple at the moment, it makes me feel like I'm on holiday! We aim to drink after midday 😂🍍
What are you looking forward to doing most once we are 'free at last'? I can't wait to see my friends and have a big summer party! (Providing this is over soon! 🤞🏻) 
Have you a message for our clients? Stay safe, look after yourselves, can't wait to see you all! 🧡