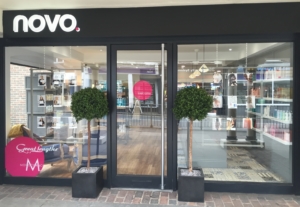 Well, we are well and truly into this 'lockdown' now and this is our third newsletter. This coming Monday was intended to be the first 'review date' and it appears certain that this lockdown will be extended for at least another three weeks (optimistic!).  I would like to thank the many emails and messages of support and appreciation for these newsletters. If they have given you help managing your hair without our TLC, that is wonderful, and if they have supplied some much needed light-relief along the way, that is even more wonderful. That said, today I am kicking off with something that is definitely not light-hearted but bear with me on this, it gets lighter later on!
Without wishing to get all political, this crisis has made me realise (more than ever) how we are in danger of losing some very special qualities that the UK possesses and how Coronavirus may be the straw that breaks the camel's back for the retail industry.
The internet has seen a 'race to the bottom' on pricing, with every online company trying to reduce their prices – often to the point where there is virtually no profit left. The 'end game' of this strategy is to wipe out the competition so that we end up with less choice and, at that point, the prices will rise and we will have no alternative but to buy from these online giants.  It was Napoleon who once said (allegedly) that we are a 'nation of shopkeepers' which was supposed to be an insult – the truth is that we are a nation of shopkeepers and it is something we are very, very good at – possibly the best in the world.
I have had a lifelong fascination with retail and marketing and I find it so frustrating that we are seeing not only the giants of retailing (Debenhams, Woolworths, BHS etc) disappear but, more worryingly, the small independents folding at an alarming rate. We, as a salon, are fortunate to look after the hair needs of many independent shop owners, and the passion and love with which they curate their stock and present their retail shops is something we should cherish.  Whilst we are in 'lockdown' we can only spend our retail money online – as physical shops are in forced closure. This, if allowed to continue, will only serve to make online stores stronger and shops weaker. Whilst I'm not suggesting for a minute we reopen the shops during this crisis, I do think we all need to ask ourselves "how do we want retailing to look in the future?" My simplest solution is to use these online monsters for the duration of the lockdown but do whatever we can to support small businesses in the thereafter – this may often mean paying a small premium for the privilege but if we don't value these independent businesses they will disappear and, along with them, a bit of our unique identity…..sermon over!
The salon comes to you (with a free gift!)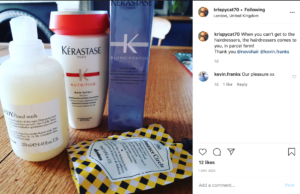 Many of our clients are taking advantage of our home delivery service* or express postal delivery. If you are running low on your Kerastase, Davines or Moroccan Oil haircare, simply email us on hockley@novohair.co.uk and we will not only get it to you in double quick time, we'll also include a free gift with every purchase over £30.00 – as did our lovely client (featured left) who showed her appreciation on Instagram.
*home delivery operates within Hockley and surrounding areas.
Treat someone to a little post-lockdown pampering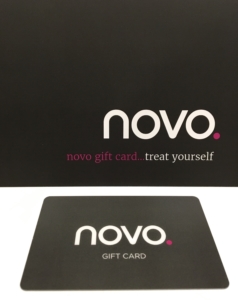 One thing is for sure, woman across the country are looking forward to their next visit to the salon more than ever before. We are also sure that, having the whole family at home home for, what is probably going to be a minimum of 6 weeks, this appointment with pampering won't come a minute too soon! Our Novo gift cards make an ideal gift for birthdays, anniversaries etc, but also just to say a little 'thank you'. Plus, to make life even easier, we will post them to your loved one for you. Simply email us at hockley@novohair.co.uk and we'll take care of the rest.
We're still missing you!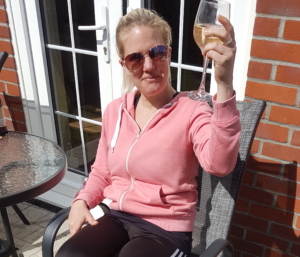 Each week we are taking a look at how our team members are coping with Isolation – This week it is the turn of our Colour Specialist Emma Sawyer:
1.     Who is in isolation with you at your home? Myself and my cat Tigger, As my other half is a key worker.
2.     What does your 'new typical day' look like? Housework followed by a 1 hour work out in my garden. Reading books, and catching up on the news.
3.     Describe your mindset towards this isolation period?  Unfortunately it can be frustrating and a bit boring at times.
4.     Have you a 'must get around to doing' during this period of isolation?  Sorting out my wardrobe to get summer ready – although it appears summer may already be here 😎
5.     Box set you intend to binge. Peaky blinders box set that I got for Christmas
6.     Box set you'd recommend to binge? Gavin and Stacey box set
7.     What are you most likely to listen to?  Radio, Absolute 80's and Heart fm
8.     You've got one outdoor exercise (apparently) you're allowed to do each day – what's yours? I do a weights circuit with own body weight exercises included
9.     What are you likely to miss most? My family, friends, gym and I do miss my work.
10.  Top hairdressing tip for surviving this period? Just please don't colour your hair at home with cheap  box colours 🙏
11.  Not wishing to promote alcohol, but what's your tipple of choice and have you set a time for your first drink of the day? White wine, sauvignon blanc. My time can vary on a day to day basis. Could be 1pm or could be later at 5pm.
12.  Have you a message for our clients? I can't wait to see my clients and to make them feel and look great again.