Day 40: Desperate times call for desperate measures!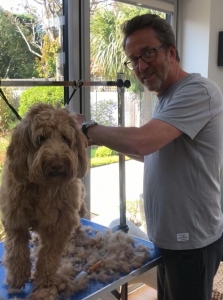 Well it's only been three days since our last newsletter, but hey..reading our newsletter means that it is 10 mins less time spent on social media – so that's got to be a good thing yes? Boris tells us he's going to outline the plans for "restarting the engines of our economy" next week, so fingers crossed we'll have a clearer picture of when novo (and other less important businesses) are able to reopen.
We are actually quite busy delivering products to clients and organising what safety steps we need to take for when we do reopen our doors – one thing is for sure, although we will be open for business, it will look a little different to how it did previously. We anticipate there will be a period where we will be limiting the amount of clients in the salon at any one time, as well as many other measures.  We will be detailing these all on the website news section and we will ask that clients refer to these guidelines before coming to the salon.
Although it will take quite a while for life to return to normality, most things will eventually revert to the life we knew. Some things will change forever, and particularly the hair of our menfolk. So, I wanted to devote a little attention to our male clients in this newsletter. Assuming you (or your man) have resisted the urge to snip/clipper so far, well done! An awful lot of men have just taken the drastic step of clippering the whole head to a grade 1 or 2 – and I'm pretty sure these guys will keep that look long-term (although most guys hate the idea of going bald, most of us secretly would love to have a close crop – I tried it once…..my wife didn't like it and my mum wouldn't speak to me!).  If you have resisted though, it is a good idea to shampoo it less frequently as it gets longer – longer hair often gets quite fluffy with men's hair, so rinsing it every day, but only shampooing it every second or third day will make it more controllable. It is also a good idea to use a drier wax than normal – this will 'hold' the hair better. Final tip, once you've washed and dried it, stick it under a cap/bobble hat for 10 mins – that will calm it down nicely.
In addition to our menfolk, our pooches are sometimes the unwilling victims of our hairdressing experimentation.  You would think that 40 years of hairdressing experience would stand me in good stead?  I have good news for Maisie's normal groomer – your job is safe x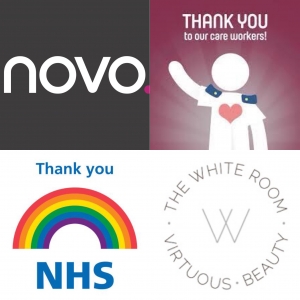 Finally, if you haven't already nominated an NHS or Care worker for our lovely Pamper Experience (in collaboration with our friends at The White Room Beauty Salon), you only have 4 more days to do so. Ten lucky winners will receive a cut and finish, together with a luxury hair treatment at novo, plus either a pampering facial, or a neck, shoulder and back massage at The White Room. To nominate someone you feel deserving simply email is at admin@novohair.co.uk, or Tag them on our Facebook Comp post.
Meet the Team Q&A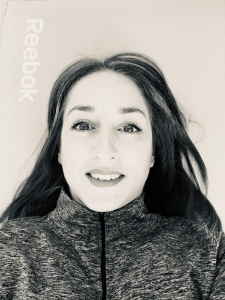 This week we posed our questions to our  Level 4 stylist Angela Paterson. The sole remaining member of staff from when we took over the Hockley salon back in 2008, Angela has been promoted within the company from her starting point as Graduate Stylist to eventually becoming overall Salon Manager.
Who is in isolation with you at your home? My husband and my Son Oliver
What does your 'new typical day' look like? Housework, yoga (entwined with my son) walk, then playtime!
Describe your mindset towards this isolation period? POSITIVE, you have to be!
Have you a 'must get around to doing' during this period of isolation? I MUST re-paint my bedroom furniture (if I can finally get hold of the paint)!
Box set you intend to binge? and box set you'd recommend to binge? I have binged Ozark, no more binging, I'm done
We don't want to promote internet shopping, but what was your last internet purchase? Books for my Son, nothing exciting.
You've got one outdoor exercise (apparently) you're allowed to do each day – are you using it? And what's yours? Yes, we walk everyday. We go and see the new ducklings at the pond!!
What are you likely to miss most? A GOOD cup of coffee and pastry at one of my favourite places in the seafront.
Top hairdressing tip for surviving this period? Treat your hair to regular masks, it's been a game-changer for my hair, as we never 'have time'.
Not wishing to promote alcohol😉, but what's your tipple of choice and have you set a time for your first drink of the day? Sav Blanc…do I have to say a time!?
What are you looking forward to doing most once we are 'free at last'? Throw my arms around my family!
Have you a message for our clients? STAY HOME, PROTECT THE NHS, SAVE LIVES AND…CONDITION YOUR HAIR!