We permit this….just this once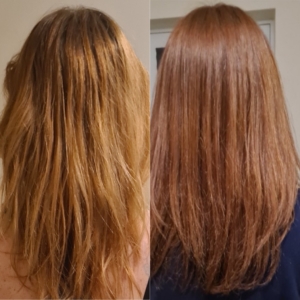 Well, we are into week five of Lockdown V3 and it is a little on the taxing side! We hope that the occasional email landing in your inbox goes some small way towards breaking up the monotony. Lockdown V3 is very different from Lockdown V1 (complete shutdown, accompanied by wonderful weather), and Lockdown 2 (the one where very few observed the rules and we all had four weeks to prepare for Christmas). This one we have neither the good weather nor any purpose in life (other than to beat the virus… which is obviously a wonderful purpose!).
We've noticed that our clients are starting to follow the same pattern that occurred in Lockdown V1: patience, patience, patience ("my hair is getting a bit long, but hey ho, I'm not seeing anyone") to exasperation ("bloody hell, look at my roots… I NEED HELP!")
As a result, our 'Colour at Home' packs have been hugely popular and (hopefully) a simple solution that has been helping our clients until we are able to reopen (see photo sent to us following use of one of our CaH packs). A question that has been asked is "what exactly does the pack include?" – the answer is simple… everything you need to touch up your roots at home yourself. Our CaH packs feature a combination of all the professional colourants we use on your hair at the salon: developer, a tint bowl/brush and disposable gloves, and (most importantly) detailed, easy-to-follow instructions. Colouring your hair at home (with a box colour) is a precarious business; we saw many clients shortly after reopening (in July 2020) that had experienced a home-colour disaster, and one that is often very hard to remedy. Much of the problem is based around colour selection; it takes many years of experience to correctly choose the right depth and tone for a hair colour. Additionally, the quality of the actual colourant is very different between a home box-colour and a professional colour.
At Novo we have 7 different colour ranges and over 300 shades to choose from, as well as over 20 different peroxide/developer strengths. We consider so many specifics when selecting a colour that it is almost impossible for an untrained person to achieve a perfect result without that knowledge. Using our CaH pack enables you to maintain your colour in the interim until you are able to return to our loving arms, it is not intended to be a long-term solution. If you'd like to purchase a CaH pack, please reply to this email or email us at hockley@novohair.co.uk.
Finally, we do not recommend the same approach when it comes to cutting your hair, unless you are a premiership footballer (they all seem to be amazing at cutting and colouring their own hair!), a newsreader (is it me or do many of them look like they've seen a hairdresser within the last five weeks?!) or a multi-purpose celebrity (hello… it's supposed to be a lockdown – hairdressers are not allowed to hairdress – what part of that do you not understand!). Maybe now we've all exhausted all of the TV box-sets available, we should start playing a very popular game in my household – 'spot the celeb/sportsman who thinks they are above the no-hairdressing rule'… or maybe I should just take a chill pill!
What's the story behind our Newspaper bags?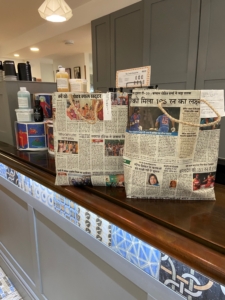 Plastic waste is a huge issue and we at novo decided that, although we do not legally have to enforce a 10p per bag charge to discourage bag use, we should do our own thing to turn a negative into a big positive. We purchase our newspaper bags from a non-profit organisation that was started by former street children (from India) who employ homeless children from Delhi to collect old newspapers (some even feature completed crosswords) and to re-purpose them into carrier bags. In turn, the profits from these bags then provide housing and education to help lift these children out of poverty. They also look very cool… but that's beside the point!
Recipe Time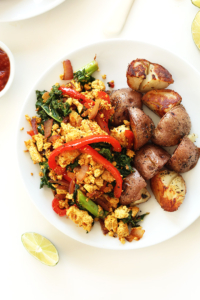 Like so many (especially in Veganuary) I have been steadily leaning towards a vegan diet. For me it is not so much an ethical thing (although I do applaud those that are vegan on ethical grounds), as a health-based decision. Some vegan dishes are actually way better than the non-vegan version (anyone who has tried the Bosh! Chilli will vouch for that), but for some the non-meat versions just don't cut it. My vegan son has recently returned from living in NYC and, as a result, we have been living the whole vegan thing 24/7. The recipe below is stolen from my son but is actually a fantastic breakfast alternative; it takes a little more time, but (hey) I have a little more of that on my hands of late. I seriously encourage you to try this… forget the fact that it's a vegan thing, just cook it for the fact that it tastes great!
Ingredients:
For the scramble
8 ounces firm tofu
1-2 tbsp olive oil
1/2 red onion (thinly sliced)
1/2 red pepper (thinly sliced)
2 cups kale (loosely chopped) or spinach
Courgette (optional) thinly quartered pieces
For the sauce
½ tsp sea salt
½ tsp garlic powder
½ tsp ground cumin
¼ tsp chilli powder
¼ tsp turmeric
Water
For the breakfast potatoes
½ lb skin-on red potatoes (scrubbed and diced)
Butter (vegan if making vegan option)
½ tsp salt
¼ tsp garlic powder
¼ tsp ground black pepper
Potatoes:
'Bake' your potatoes in a microwave for 4 mins (or until there is a little give when squeezed), cut them into bite-size chunks (quartered) and fry them in the butter. Ensure all sides are lightly browned. Spray with olive oil and then add half of the spice mix ingredients. Once coated and cooked for about 4mins, turn them all over, spray again and use remaining spice mix and cook for another 3-4 mins (or until golden brown all over).
Tofu Scramble:
Open the tofu and pat it with kitchen roll to remove moisture. Use a fork to crumble the tofu into small, bite-size pieces.
Add all of the dry spice mix ingredients to a bowl and add a small amount (20ml) water to make a pourable sauce.
Fry the onions, peppers and courgette in a hot pan, add a pinch of salt and pepper and fry until softened.  Once softened, add the kale (or spinach), another pinch of salt/pepper and fry until kale has softened. Move all the vegies over to one side of the pan and add the tofu. Fry the tofu for about 2-3 mins and then pour over the sauce, plus a little of the sauce for the veggies. Now cook everything for another 5-6 mins.
Serve on toast (Crosta&Mollica Pane Pugliese bread fromWaitrose is a must) with sliced avocado, lime and chilli ketchup.
Valentines Day Approaches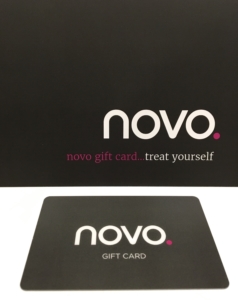 Our clients always seem to love giving and receiving novo gift cards and, with the shopping restrictions in place, they make an ideal and thoughtful Valentines gift……..we know that our female clients look forward to coming to the salon more than almost any other single activity once lockdown is over, and it would be even better carrying a pre-paid novo Gift Card! We can supply them in-salon for any amount you require (email us on hockley@novohair.co.uk), and we can even send them to the recipient on your behalf. Plus we have enabled the purchase of e-gift vouchers through our website………