Lockdown Part 2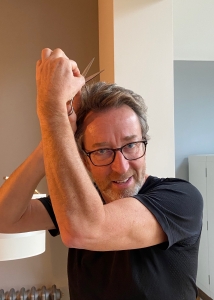 Let me start by apologising for the lack of newsletters during this lockdown. Whilst I'm sure there's not too many of you checking your inbox on a daily basis, many clients have been asking what's happened to them and I can only say that it has been trickier to come up with good content this time round … my first case of writer's block!
So, in an attempt to give you some good content, I decided to conduct a 'controlled' experiment. As a result of not being able to get a haircut (and being long overdue) I decided that desperate times need desperate measures. There are three questions that I feel have now been answered – two are general questions (for our clients' information) and one is a technical one (more for us hairdressers).
Q1: Can a highly talented hairdresser (that'll be me btw!) cut his own hair?
Q2: Can a non-hairdresser cut a decent short haircut (not a clipper cut) with expert (that's also me btw!) instruction to a decent standard?
Q3: Which is more important when trying to achieve a good cut – accuracy with possibly no understanding of angles? Or a complete lack of accuracy (sorry Mrs Franks!) but with the correct angles/direction?
So, to conduct this experiment I employed the services of my lovely assistant, Mrs Jane Franks (otherwise known as my wife). To be fair, I started by attempting to cut my own hair in a mirror…. this quickly established an answer to Q1: no, it is not possible for a highly talented hairdresser (me) to cut his own hair!
After feeling sick to the stomach at the crime against hairdressing that I had just committed, I asked my overly-keen wife if she would help. It should be pointed out at this point that although she has been my wife and business partner for 30 years, she has no hairdressing experience whatsoever. I am pleased to report that, following 40 minutes of guidance from myself (together with some badly-sketched illustrations – illustrations many of my team will be familiar with over the years!), a) my hair actually looks surprisingly good  (wife now thinks she has missed her vocation in life!) and b) it IS possible for a non-hairdresser to cut a decent short haircut with expert guidance… I repeat 'expert guidance'!
Finally, Q3: The perfect balance of accuracy and a complete understanding of angles is 'everything' when it comes to achieving the perfect cut. A great cut makes any hairstyle a work of art (from a hairstylist's point of view) and 6 weeks of hassle-free beautiful styling from a client's point of view. But which is most important? I was very able to ensure my wife was lifting the hair at the right angles, but the accuracy… the less said the better in that regard! The conclusion: angles win every time.
Having heard from Boris today, it would appear that we will definitely reopen on Wednesday 2nd December, so you won't need to resort to the drastic measures I just employed. The same advice applies to home colouring… whatever Davina McCall and Stacey Dooley claim, I can pretty much guarantee that they do NOT colour their own hair. As I said in a previous newsletter, you call it home-colouring, we call it self-harm!
We did our very best to see as many clients as was possible in the days prior to closing and we will be working extended hours throughout the lead up to Christmas to ensure our clients enjoy their socially distanced, numbers-limited, festive period. If you haven't already secured your pre-Christmas booking for your cut or colour, please head over to our website as soon as possible, as we are nearly fully booked for the remainder of 2020.
Finally, please keep safe everyone and we look forward to seeing you very soon x
Two happy arrivals!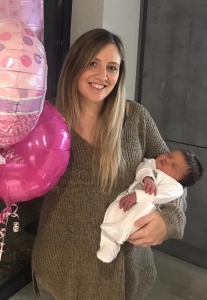 Novo are pleased to announce two happy arrivals! First to make an appearance was baby Hallie May to proud parents Nicola and Paul on the 22nd Oct. Hallie (pictured) weighed in at a very impressive 9lb 6oz and both mother and baby are doing fabulously well. Following shortly after, on 7th November, was baby Julia Eleanor (pic to follow shortly) weighing in at an equally healthy 7lb 13oz to proud parents Angela and Aaron.  Both Angela and Nicola would like to thank their many clients who have sent their messages of congratulations and cannot wait to see you all again when they return.
More great news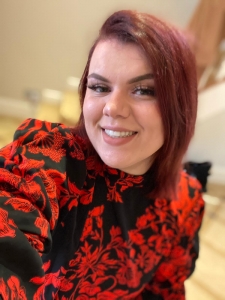 Novo are also pleased to announce that Gabby has now graduated following her apprenticeship with novo and is officially a Level 1 stylist. Gabby has shown tremendous enthusiasm for hairdressing throughout her 3 years of training, has won the Central Hairdressing Image of the Year competition back in 2018, and (most importantly) has genuine talent for her craft. Gabby will no doubt become a very busy stylist for novo and clients can book appointments by visiting our website.
Novo gift vouchers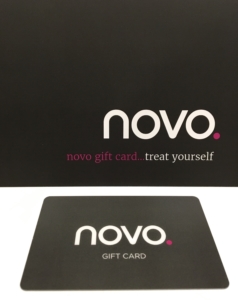 Our clients always seem to love giving and receiving novo gift cards and with the shopping restrictions in place, they make a hassle-free Christmas gift. We can supply them in-salon for any amount you require, and we can even send them to the recipient on your behalf. Plus, in readiness for Christmas, we have enabled the purchase of e-gift voucher through our website – simply click on that little pink 'Book Appointment' tab on your right (👉🏻) and click on 'buy giftcards'. With choices ranging from £25.00 to £250.00 (for our Ultimate Gift Card), there is an option for every budget.