Hairdressing is without a doubt one of the most rewarding professions available to a young (or not so young) person today. Hairdressing is a fast paced, fashion influenced and dynamic service industry that offers unrivalled job security (whilst many industries can be mechanised or computerised….you'll never get a computer cutting your hair!). Furthermore, as a hairdresser, you'll spend most of your working life making people happy and giving them a couple of hours of sheer indulgence – in a recent survey, hairdressing came second (behind nursery childcare) as the career that gives the highest level of job satisfaction.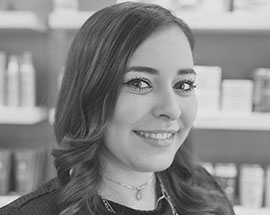 However, with so many salons and colleges around, where should you start when it comes to choosing how to enter this profession? We strongly recommend learning from the professionals by completing an in-salon apprenticeship; there are other routes, but we firmly believe that if you want to learn to be a great cook, go work in a great restaurant kitchen – if you want to be a great hairdresser, go work in a great salon!
*As did Rebekah (pictured), Rebekah came to novo, aged 19 and with no previous experience – she has now completed her Level 2 NVQ hairdressing, a Level 2 NVQ in barbering, as well as attending numerous courses in cutting and colouring, she is about to become a Qualified Hair Extensions specialist, and now manages a busy clientele – and all within three years!
Novo has over 20 years of experience in teaching hairdressing and we have a proven ability to take a school-leaver and turn them into a great hairdresser. A career with novo allows you access to the best training, with current novo employees having completed courses through l'Oreal (including the l'Oreal Colour Specialist Degree), Hair Extensions education through Great Lengths (with two team members having visited the Great lengths factory in Rome), and numerous other specialist courses.
We are looking to recruit three apprentices across our two locations (Southend and Hockley) – applicants can be either school leavers, midway through their Level 2 NVQ (they may be dissatisfied with their current progress), or at the end of Level 2 and about to start their Level 3.
Whatever level you are at, we are only interested in applicants with an exceptional desire to become a brilliant hairdresser able to offer fantastic service to our salon's clients – if hard work and high expectations are a little scary, this is not the job for you. But if you're serious about becoming a great hairdresser, please apply (in confidence) to admin@novohair.co.uk – we'd love to talk with you!