Babies, babies, babies!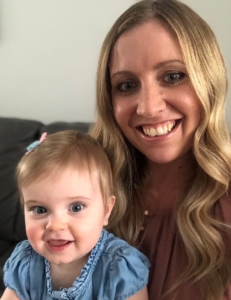 We've certainly had a lot of activity on the 'baby' front over the last year or so, and for Autumn 21 we have more news to announce.
The first great news is that one of our most popular stylists 'Nicola' will be returning to work three days a week from the middle of October (Monday, Friday and Saturday) – her column is now open for bookings via our online booking facility at novohair.co.uk – book appointment. Nicola (pictured above with baby Hallie) cannot wait to catch up with her clients.
Another expectant mum is our Level 1 Stylist Charlie Adlington-Howard who is expecting her happy arrival in December. Charlie will continue working (hopefully) until late October.
Finally, we have sad news – our former salon manager and Level 4 Stylist Angela will not be returning to work following the birth of her second baby Julia in order to focus on her young family. We are sure that the story of Angela and Novo is not fully written and we look forward to announcing her return  – albeit maybe a couple of years from now.
Committed to the future– Passionate about training.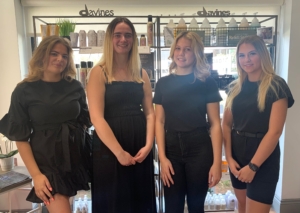 With all of the talk in the media recently of a skills shortage and how difficult many companies are finding it to recruit apprentices, novo has certainly found this not to be the case. We have been very fortunate to receive many really good applications for our Summer 21 intake. Our own little 'Class of 21' features (pictured left to right) Poppy Towse , Jade Evans, Joanna Martin and Amy Everett). Which one could be doing your hair in five year's time?
Give your hair a mini-facial!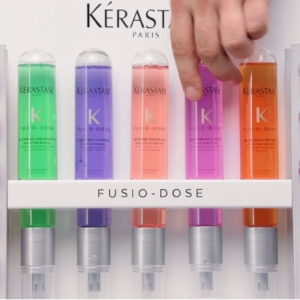 We tend to know when our skin needs a little pick-me-up, but do we notice that our hair is exposed to the same damaging elements (more so actually…..we don't tend to use a hairdryer and straightening irons on our face!). So as we approach the end of summer (yes we did actually have a summer apparently), we recommend a nourishing treatment for our clients when they visit the salon and we have listed below our favourite hair treats:
Olaplex 4in1 Moisturising treatment (from £19.50 – takes 15mins) – everyone knows how fabulous Olaplex is for strengthening the hair, but now the new 4in1 Moisture treatment nourishes the hair and leaves it feeling luxurious.
Fusio Dose by Kerastase (£16.50 – takes 5mins) – by far our most popular instant hair recovery treatment. Your stylist will custom-mix this treatment to address your individual hair needs.
Olaplex Rebonder (£30.00 – takes 30mins) – The treatment that changed hairdressing and still the best treatment available for chemically damaged hair (hair that is tinted, highlighted, bleached etc). When we damage hair we effectively 'break down' the bonds within the hair….. Olaplex was the first treatment that actually works within the hair to physically rebuild these bonds. The results are long-lasting and the hair is left both stronger and softer to the touch.
Changes to our bookings policy.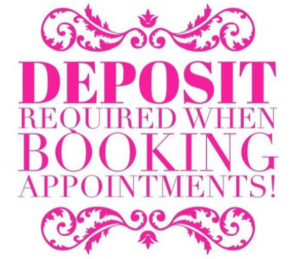 Last minute cancellations are invariable impossible to fill, and although we frequently have a wait-list for appointments (particularly at busy times), appointments cancelled within 48 hours do not allow us sufficient time to fill those slots. As a result of a notable increase in the volume of late-cancellations, from 1st September all colour bookings via our phone or website will require a deposit to be paid – this deposit will relate specifically to the appointment booked and cannot be transferred, unless the appointment is moved or cancelled by providing a minimum of 72 hour's notice.